by Jeremy Williams on May.25, 2016, under News
GCAP is expanding their boiler division to add three new boilers in it's second boiler lab for hands on training.  We have recieved two of three new boilers.  One is the Sellers S Series and the other is a Superior Condensing Creek XL Boiler. Great opportunities for advanced training and new technology.
The Creek XL condensing boiler can be used as a high efficiency heating boiler. The heart of the Creek XL is a robust titanium infused stainless steel heat exchanger – the key to its high efficiency. This design allows the boiler to withstand the corrosiveness of condensed flue gases for years of reliable operation. A large horizontal combustion chamber limits the formation of Nitrogen Oxides (NOx) and is matched with a specially engineered vertical condensing section of AISI 316 Ti stainless steel.
The Creek XL is a flow-through design which means no dedicated boiler pump is required. The Creek XL has no limit on return water temperature, and is designed with TWO hot water returns, allowing for a system with two distinct loops and two different return temperatures. This makes the Creek XL a very flexible boiler that can be used in many situations.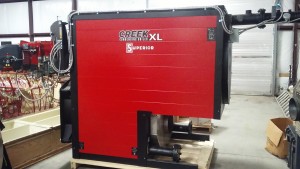 Sellers Manufacturing Company was founded in Chicago in 1931 when new industries were looking for ways to take advantage of natural gas energy. Sellers pioneered gas-fired equipment such as boilers, burners, water heating equipment and bakery equipment.
Sellers is well known throughout the world as offering the highest quality equipment with unrivaled reliability, efficiency, ease of maintenance, durability and cost effectiveness.
The Sellers immersion fired S-Series steam boiler is a horizontal, single pass, firetube boiler designed to burn natural gas. The unique burner assembly delivers pre-mixed air and gas through multiple nozzles. The air-gas mixture is ignited as it exits each flame retaining nozzle at high velocity The resulting flames are long and small in diameter. The flame from each of these nozzles is directed into a 2″ O.D. tube that is completely immersed in liquid. There is a separate tube for each flame with the same amount of heat going into each tube. These small diameter flames burn in the first half of the tube lengths. Therefore, the "fire shines" on half of the heating surface in the single pass boiler — 50% of the total heating surface is radiant heating surface.
The high percentage of radiant heating surface, the low heat input into each tube, and the even distribution of heat throughout the multiple tubes virtually eliminate thermal stress problems that are common in multiple pass boilers.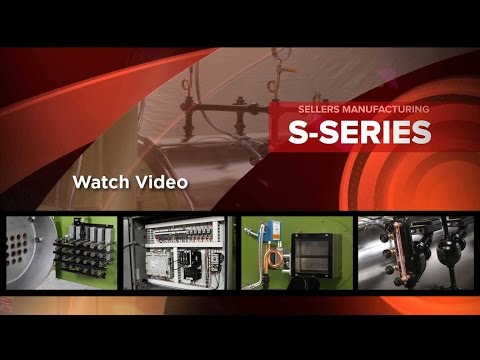 Comments Off

on GCAP Expanding Boiler Division
more...