by Jeremy Williams on Sep.09, 2015, under News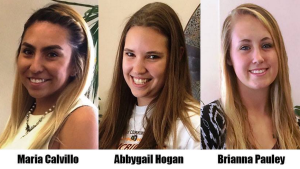 Three area women have been named the first recipients of the Ronnie Peek Memorial Scholarship funded by the Garden City Ammonia Program (GCAP) and presented by the Western Kansas Community Foundation.
The scholarship fund, named in memory of 16-year Garden City Fire Department veteran Ronnie Peek who died during training exercises in January 2015, was established by Randy and Rachel Williams and their son Jeremy Williams to honor Finney County first responders who provide for public safety. The fund provides three $1,000 scholarships for the children and stepchildren of Garden City Fire Department, Garden City Police Department and Finney County EMS employees.
Maria Klarissa Calvillo, Garden City, Abbygail Hogan, Cimarron, and Brianna Pauley, Holcomb, were each awarded $1,000 scholarships on August 14 and have the distinction of being the first recipients of the newly created scholarships.
Calvillo, a Garden City freshman at Kansas State University majoring in psychology and women's studies, is the daughter of Garden City Senior Master Patrol Officer Gabe Calvillo. She is involved in Friends of Four Paws, K-State Dance Marathon, Hispanic American Leadership Organization, National Society of Collegiate Scholars- K-State Chapter and is a UNITY event coordinator. She maintains a 3.52 GPA.
Additionally, Calvillo is a first-generation college student and plans to complete her undergraduate degree in psychology at KSU and pursue a mater's degree at the University of Kansas in clinical psychology. She plans to work with victims of sexual abuse.
Abbygail Hogan, daughter of Tom and Lisa Hogan, Cimarron, earned the EMS scholarship. Her father is a Finney County paramedic and her mother is a realtor with Regan & Co. with an EMT certification. She is a junior at Kansas State University, and throughout high school she was involved in 4-H and was elected to the Kansas 4-H Youth Leadership Council where she served for two years. As a high school senior, she received the Key Award which is only given to the top 10 percent of 4-Hers and is based on leadership involvement along with community service.
While a student at Garden City Community College, Hogan was a student athletic trainer and tutor who later achieved Master Tutor status. She was also an active volunteer with her church playing piano and hand bells for services, teaching Sunday school and confirmation classes, visiting nursing homes, helping with election campaigns and in the local public library.
Hogan plans to major in athletic training and said she would like to work in a military setting upon completion of her certification. She plans to add EMT or paramedic training to her repertoire of skills and to eventually pursue a master's degree.
Brianna Pauley, daughter of Katy and GCPD Sergeant Paul Pauley, Holcomb, is the third recipient of the Peek Scholarship. She plans to become a homicide detective and is beginning her studies this fall at Garden City Community College.
Pauley is active in Big Brothers Big Sisters, the Fellowship of Christian Athletes, Future Farmers of America, vocal and instrumental music, student senate, and sports including basketball, cross country, and track. During her high school studies she maintained a 3.78 GPA.
No stranger to volunteerism, Pauley has spent time on her church's mission trips building houses for families in Mexico, helping with vacation Bible school, helping with her church's Fixin' and a Paintin' work days, serving as a Salvation Army bell ringer, and served at the ABC Pregnancy Banquet for the past two years. She has been a partner with the children in Families Together and was a representative to the Lutheran Youth Fellowship of Kansas. She also works part-time at Papa Murphy's Pizza.
Pauley's plans after completing a criminal justice degree at GCCC are to enroll in a four-year college to complete a bachelor's degree in sociology before completing her training in homicide case work.
Funding to continue the yearly awards will be provided from the proceeds gleaned from GCAP's annual Region 7 Ammonia Safety Day held each May at Kansas City Community College. The Williamses, along with several other staff members and instructors, present refresher courses and training throughout the entire day to 350-400 participants. They provide recertification and OSHA training to groups of technicians with varied skill levels and skill sets.
The scholarships have been set up and will be managed by Western Kansas Community Foundation.
Comments Off

on Recipients of first Ronnie Peek Memorial Scholarship
more...